March is a time of change as the days become longer and the temperatures begin to rise. It is also daylight savings time, which can be hard for some children and families disrupting their routine and sleep cycles. Sleep is a key component of growth and development. So when children and adolescents have difficulty with sleep, it can impact multiple systems such as a weakened immune system, poor school performance, behavior difficulties, impaired memory and mental health issues. In pediatric and family practices, sleep, or more importantly the lack of sleep, is one of the most common topics discussed with parents and caregivers. Studies suggest that up to 50% of children experience a sleep problem and approximately 4% have a diagnosable sleep disorder.* According to the 2017 National Survey of Children's Health, in Illinois 28% of parents reported that their child did not get the recommended age appropriate hours of sleep. The most common sleep problems in children include difficulty falling asleep, nighttime awakenings, snoring, resisting going to bed, and sleep apnea. Lack of sleep in children can exhibit as irritability, behavioral problems, learning difficulties and motor vehicle crashes in adolescents.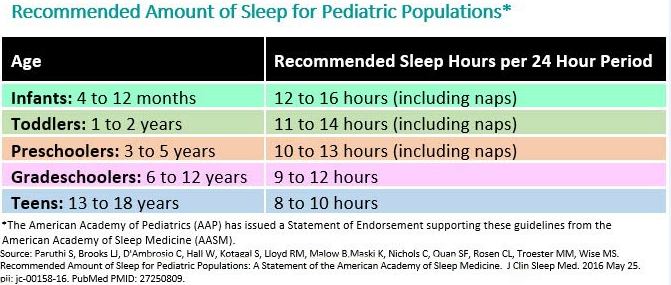 Sleep Hygiene
The best way to ensure a good night of sleep for children and adolescents is to focus on sleep hygiene. Here are some tips to making sleep easier and ensuring children are getting the rest they need.
Routine
As children grow and develop it is essential to have a bedtime routine to ease them into a restful state. A child's bedtime should be established. Also, parents should limit stimulation prior to bedtime such as watching television, playing video games, texting and social media. Screen free time will assist children and adolescents in winding down with the goal of feeling drowsy at bedtime. Maintaining a consistent sleep routine can offer predictable, soothing time before bed that will aid in the child becoming drowsy. It is important that children learn to calm down by themselves and with your help through a soothing bedtime routine. Reading an age-appropriate book together is helpful for younger children.
Sleeping Environment
A child's bedroom is an important aspect in good sleep hygiene. Tips to making the bedroom a good place for sleep include a cool and comfortable bedroom. Limit the distractions from electronics and cell phones. The American Academy of Pediatrics recommends avoiding use of electronics one hour prior to bedtime and developed a tool to assist parents and families plan for media use both in the home and in social settings.
Also, consider that the bed should be used for sleeping. Adolescents especially should be encouraged to do homework and watch television in places other than their bed. Alternatively, younger children may go to their parents' bed in the middle of the night for comfort. The key, as a parent, is to return the child to their bed as soon as possible.
*Accessed from American Family Physicians website March 2019 at www.aaafp.org.
• Kenneth R. Ginsburg, MD, MS Ed, FAAP, and Martha M. Jablow. 2015. Building Resilience in Children and Teens: Giving Kids Roots and Wings, 3rd Edition.
² https://childmind.org